Wrathlamp
Name
Wrathlamp
Luminance
Yes
Stackable
Yes (64)
Data Value
1000:6
Source Mod
Factorization
The wrathlamp is a light source with an incredibly large radius of light.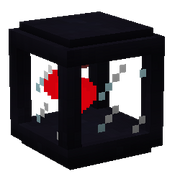 While active, it produces the red "Wrath" particle effect.
In June 2013, illusion9 reported a potential memory leak issue caused by the Wrathlamp. Several comments below mention problems when used in close proximity to Quarries and Red Alloy Wire.
Recipe
[
]
Note: The Wrath Igniter in the recipe is not consumed but it takes durability, so a single Wrath Igniter can be used to craft several Wrathlamps.
Notes
[
]
The light will travel eight blocks out before it starts dimming.
Vertically, the light travels about twenty seven blocks before dimming.
Placing a Wrathlamp closer than five blocks away from a quarry will cause it to start trying to remove the air blocks that are lit up--it is likely that the wrathlamp places invisible light blocks in the area around it that confuse the quarry.
Placing a Wrathlamp above a treefarm will stop growth of the trees because the generated lightblocks occupy the area needed for a tree to grow.
Factorization
 

Machines and Energy

Machines

Energy Generation

Energy Transport

Energy Storage

Other
 

Utilities

Tools

Armor

Storage

Lighting