This article is about the IndustrialCraft Treetap. You may be looking for the automatic Treetap (Forestry).
Made out of Wooden Planks, the Treetap is used for extracting Sticky Resin from Rubber Trees. To extract resin from a tree, find a Rubber Tree that has a Sticky Resin hole and right-click on it with a Treetap. Note: Sticky Resin can still be extracted from the tree with no leaves remaining attached to the tree.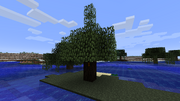 It is also used in crafting the Canning Machine, the Extractor, the Electric Treetap and the Mining Pipe.
If the treetap is placed on a Booze Barrel, the tree tap will be used and it will turn in to a tap. After you placed it you can right click it with a mug to fill it up.
Note: Placing the tap will stop Beer, Rum or any other drink that is being made. It is recommended to not place the Treetap before the full fermentation process has finished.
IndustrialCraft2
 

Energy and Wiring

EU Storage Blocks

EU Storage Items

Transformers
 

Machines

Components

Gatherers

Generators

Processors

Utility
 

Nuclear Reactor Components

Cooling

Heat Management

Plating

Radioactive

Reflectors
Community content is available under
CC-BY-SA
unless otherwise noted.