The Mass Fabricator is a high-tier machine from IndustrialCraft 2. It is disabled by default in Feed the Beast modpacks that include the GregTech mod. It can be reenabled in the GregTech configuration file. GregTech replaces the Mass Fabricator with the considerably more-expensive and slower Matter Fabricator.
The Mass Fabricator is an advanced machine that requires 1,000,000 EU to generate UU-Matter. This material in return is capable of creating almost everything in Minecraft itself, with exceptions (e.g. Bedrock)
Scrap will greatly increase the speed and reduce the cost of the fabricator by 6 times. Scrap is consumed in the process: A total of 34 scrap is needed to create UU-Matter at maximum efficiency. To produce enough scrap to run the fabricator constantly, you need one Recycler for every 17.86 EU/t input (approximately). Scrap can be fed automatically into the fabricator through the bottom side. The UU-Matter can be extracted from any side. Currently, this and the Terraformer are the only IC2 machines capable of accepting High Voltage from an HV Transformer or MFSU directly (some GregTech machines can also accept HV power). If your mass fabricator is far away from your power source, this would be ideal. However, keep in mind that inadvertently using the Extreme Voltage side of the HV Transformer will cause an explosion of considerable force, similar to a Nuke (half the radius in uniform blocks).
Like the GregTech Matter Fabricator, the Mass Fabricator accepts Forcicium.
Sending a redstone signal to the mass fabricator will stop it from consuming power.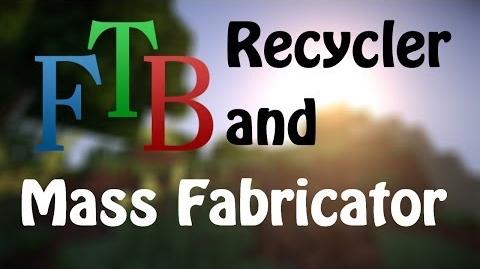 Community content is available under
CC-BY-SA
unless otherwise noted.