Induction Furnace
Name
Induction Furnace
Type
Machine
Max Energy
1-128 EU/t
Source Mod
IndustrialCraft2
The
Induction Furnace
is an advanced version of the
Electric Furnace
. It features 2 input and 2 output slots that can process items simultaneously. Doing so will also save 50% of the energy that would have been used had every stack been smelted by itself.
Over time, the Induction Furnace will build up heat. Since it starts at 0 heat, it starts off cooking slower, but when the heat has built up enough, it will smelt items much quicker. Applying a redstone current to the furnace will make the Induction Furnace continue to use power to heat up. At maximum heat, it takes 1 EU/t to maintain while idle.
The Induction Furnace can receive up to 128 EU/t and cannot be upgraded with a Transformer or Overclocker Upgrade, because it does not have the required slots. If you supply it with any more energy than medium voltage (128 EU/t), the Induction Furnace will EXPLODE! The Induction Furnace consumes 6000 (0% heat) to 208 (100% heat) EU per operation and requires a minimum of 16 EU/t to operate continuously.
Related Items
Edit
Video Tutorial
Edit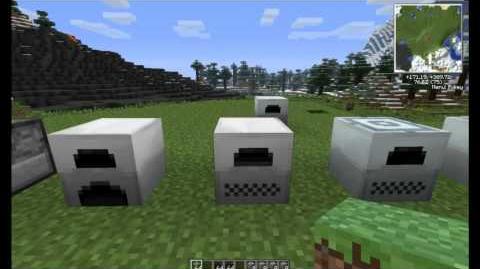 IndustrialCraft2
 

Energy and Wiring

EU Storage Blocks

EU Storage Items

Transformers
 

Nuclear Reactor Components

Cooling

Heat Management

Plating

Radioactive

Reflectors
Community content is available under
CC-BY-SA
unless otherwise noted.