big pog block
Block of Steel
Name
Block of Steel
Type
Solid block
Physics
No
Transparency
No
Luminance
No
Blast Resistance
?
Tool
Renewable
No
Stackable
Yes (64)
Data Value
dec:214:2
Source Mod
Railcraft
The Block of Steel is a decorative and storage block similar to diamond, gold, and iron blocks. They are crafted using nine Steel Ingots which are obtained from smelting Iron in a Blast Furnace or Industrial Blast Furnace.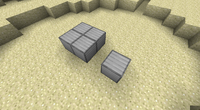 It is crafted either 'uncrafting' e.g. crowbar or using a blast furnace with a iron block in the smelting slot and fueling it with charcoal or coal coke. (NOTE: THIS IS NOT A MISTAKE. COAL DOES NOT WORK IN THE BLAST FURNACE)
(may not work)
Community content is available under
CC-BY-SA
unless otherwise noted.