Asteroids are a natural occurrence in The End implemented by GregTech. They can spawn anywhere between Y-Level 10 to 246 and occur from every 20th to 100th chunk (not 100x100), making them a rare find.
Many asteroids contain various ores. It appears as if each asteroid may contain one vein, yet they can have more, or none.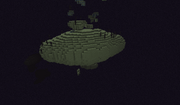 Asteroids cannot be found in The End in the FTB BETA A pack, as it uses an outdated GregTech version.
The ores that can be found in the Asteroids are: