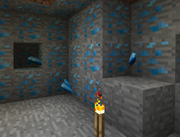 Apatite
Name
Apatite
Type
Item
Stackable
Yes (64)
Data Value
13259
Source Mod
Forestry
Apatite is a dark blue-ish gem added by the Forestry mod, and is obtained via mining Apatite Ore. It can only be mined using a stone pickaxe or better. It is used primarily in the creation of Fertilizer (Forestry) and Stamps (1n).
After version 2.00 of forestry apatite will be naturally spawned in much larger veins of up to 48 blocks, similar to silver ore from factorization, and will only spawn above level 60. Apatite will be much more valuable considering fertilizer will be required to run multi-block farms, and you will no longer be able to craft fertilizer from ash and sand.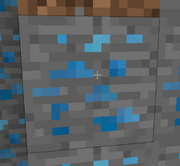 Stamp 1n:
Apatites can be stored in crates, as they have been removed from Forestry.